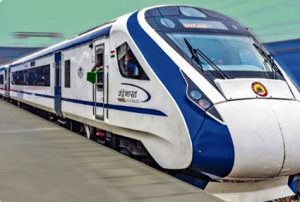 Indore. The indigenously developed Vande Bharat train, which earned the reputation of being the country's first semi-high speed train, has again started from Indore. It is expected that the Bande Bharat train between Indore-Bhopal-Jabalpur may start from March or April. So far, the central government has not provided a single Bande Bharat Express train in Madhya Pradesh, while the facility has started in Maharashtra and Chhattisgarh.
Sources said that a rake of the Vande Bharat train was prepared and dispatched from the coach factory in Chennai recently. Jabalpur division of West Central Railway is going to provide this rake of 16 coaches. There are plans to run Bande Bharat trains from Indore to Jaipur and Jabalpur. Jabalpur Bande Bharat Train Maintenance is offered at Jabalpur and Jaipur Bande Bharat Train Maintenance at Indore. However, this news cannot be confirmed at any level, as everything related to Bande Bharat is being decided at the level of PMO and Railway Minister. It was announced a few days before the start of the train from where the train will run in Bande Bharat? Earlier in January, during Prime Minister Narendra Modi's visit to Indore, talks of running the Indore to Vande Bharat train had gained momentum. The Ratlam Railway Division completed the electrification of a pit line at Indore Yard in haste ahead of the Prime Minister's visit. This is necessary because Vande Bharat is an electric train set. No separate loco (engine) is required for this.
Want to drive this train
The popularity of the Vande Bharat train is such that most MPs want to run this train from their parliamentary constituencies. Recently, at the inauguration of the Vande Bharat train in Maharashtra, Prime Minister Narendra Modi himself said that earlier MPs used to demand to stop trains in their areas, but now they are asking for the Vande Bharat train. Madhya Pradesh was expected to receive one of the two rakes of the Bande Bharat train in February as well, but the two rakes were sent to Maharashtra, which ran between Mumbai-Shirdi and Mumbai-Solapur.
Share:

next post
February 27, 2023 Wed
The campaign will run across the state from April 6 to April 14, Indore. BJP (BJP) is now going to campaign from village to ganj, from house to house in the entire state. State organization Backward Class Front has given responsibility for this. The campaign began on the party's foundation day, April 6, with Baba Saheb Ambedkar's (…)